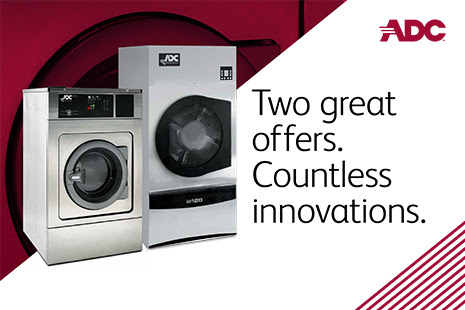 From hotels to hospitals and nursing homes to health clubs, efficient and reliable on-premise laundry facilities are a critical component of the overall operations. We offer a variety of different washer and dryer models that perform flawlessly even when demands are high. If you're looking for efficiency and round-the-clock reliability, look to ADC.
ADC High-Performance Washer Extractors
ADC has long created innovative, performance-built products, and our first foray into the multi-load washer market is no exception. The EcoWash Commercial Washer is designed for versatility and delivers durable performance, every single day.  Available in Hard Mount, Rapid G-Force Hardmount, and High G-Force Softmounts ADC EcoWash Washer/Extractors provide top of the line performance and value.
Streamlined maintenance via three access points: console, front, and toe panels.
Customizable and easy-to-use Intuitive Micro Controls (IMC) standard M2 Controller provides a wide variety of programmable controls and cycle options.
Excellent strength and stability provided by the robust A-frame design constructed of channel iron.
Available in 25, 30-, 40, 60, and 80-lb. capacities.
i-Series – ADC's Ultimate Drying Machine
ADC's pursuit of creating the perfect dryer is now approaching a half century. As the first company to introduce stack dryers to the industry and the first to utilize computers in commercial dryers, the all-new Intelligent Dryer Series continues the legacy of cutting edge technology with unsurpassed reliability. We've designed the ultimate drying machine, engineered with the owner in mind.
• Variable drum speed
• Pre-heat system
• Trans-axial airflow
• Fully insulated cabinet
• Double-pane door glass
• Self-cleaning lint screen
• Direct spark ignition
• Two-point roller support
• "IMC®" intuitive micro control with auto-dry system
• S.A.F.E. (Sensor Activated Fire Extinguishing System)
• Single-phase reversing basket
• Stainless steel basket and fronts
• Simplified inverter drive system
AD Series – OPL Dryers
American Dryer built its reputation on the AD series dryer because, simply put, these dryers are built to last. Our engineer driven approach and our passion for innovative design and top-to-bottom quality are designed to make the AD series dryer a popular choice for on-premise laundries around the world.
Three control options – M4 (100 G-Force with four cycle controls), M9 (100 or 200 G-Force with 9 cycle controls) and the M30 (100 or 200 G-Force with 30 program options).
Five performance options to suit customized applications.
Heavy-duty computer optimized frame design is stronger than ever.
ADC Eco-Dry Tumblers
ADC's EcoDry dryers illustrate our passion for innovative design and a constant pursuit of perfection. Designed with many of the standard features that have made ADC the leader in commercial and industrial dryers, the EcoDry dryer is our most energy efficient while ensuring optimum dry times and thru-put. Now on-premise laundries can go green without compromise. Additional features include:
• Residual Moisture Control (RMC) • Self-Diagnostic Microprocessor Control • 100% Axial Airflow • Completely Sealed Basket • Non-Perforated Ribs and Basket • Dual-Paned Door Glass • Four-Point Roller Support System • High Capacity Lint Drawer
ADC Industrial Dryers
ADC's industrial dryers are built upon the principle of large capacity and swift production at an affordable price. With full capacity tumblers and various door and tilt configurations, you are assured the ability to dry fast and efficiently without the large price tag. We offer a unique design for demanding applications.
The ergonomically designed industrial-sized AD Industrial Series is available in one- and two-way door/tilt configurations for easy loading and unloading. With convenient front panel access to all major electrical and pneumatic components, they're also easy to maintain. The AD Industrial Series is equipped with a wide range of standard features that include our exclusive patented microprocessor-controlled drying system for optimum operating efficiency. High production combined with durability make the AD Industrial Series the best investment in the industrial class.  Available in 210, 310, 410, and 464lb Capacities.
Fireman PPE Systems
At American Dryer we offer solutions for specialty needs. ADC's EcoDry Firefighter's Gear Dryer Cabinets are energy efficient and are designed to prolong the life of the gear.